NEET PG 2023 top rankers share preparation tips
NEET PG 2023 top rankers shared with us some tips that helped them in their preparation – from utilizing GTs and Schema, to what they did on the last day before the exam.
Dr. Arushi, Rank 1, started giving GTs early in her preparation. She says:
I started giving GTs in the first month of my internship. After attempting a GT I used to review all the questions that I did wrong, along with all the questions that I did right, but I was not very sure about. I used to reread those topic from my notes.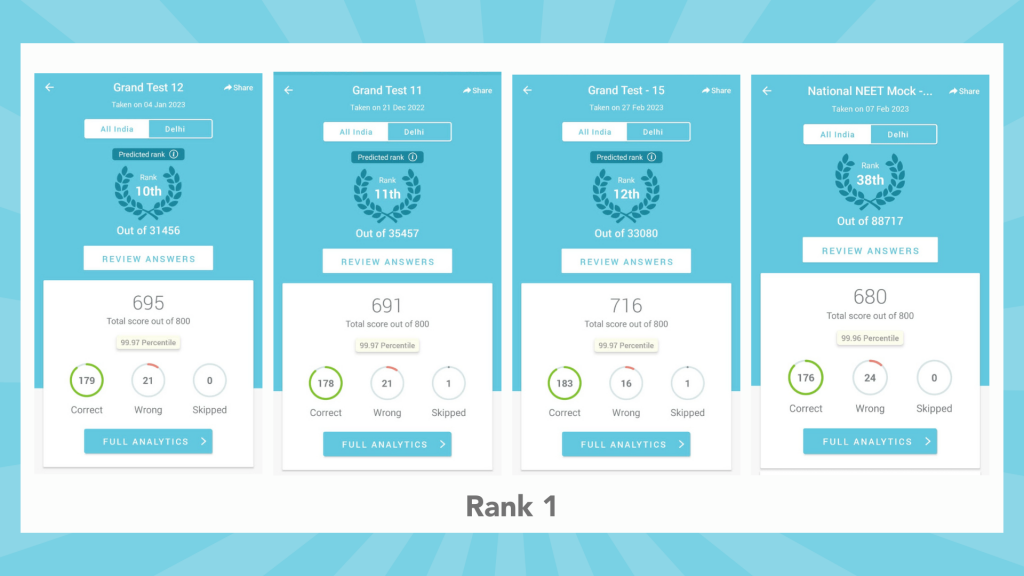 NEET PG 2022 top rankers too used GT Analytics efficiently. You can see their graphs here.
Dr. Prem, Rank 2 had exclusively used Marrow Plan C to prepare.
I used everything starting from the Videos, the Notes, the QBank, the Test Series, the Pearls, and the Recent Updates. To add to it, I used standard textbooks for my final-year examination.
He appeared for the Marrow National NEET PG Mock & got an All-India Rank of 7 there.
The night before the exam he followed a unique routine.
It is very important to not do too much right before exam day because I have a problem of not able to sleep. I just reviewed the last Marrow GT that I had given and went through my bookmarked questions in the app.
Dr. Rupesh, Rank 3 used to religiously analyze GTs and referred to Schema to understand his weak subjects
Forensic Medicine was my weakest subject, which I figured out from my GT Analytics. So the day before NEET PG, I read only FMT, so I dont mess up in IPCs.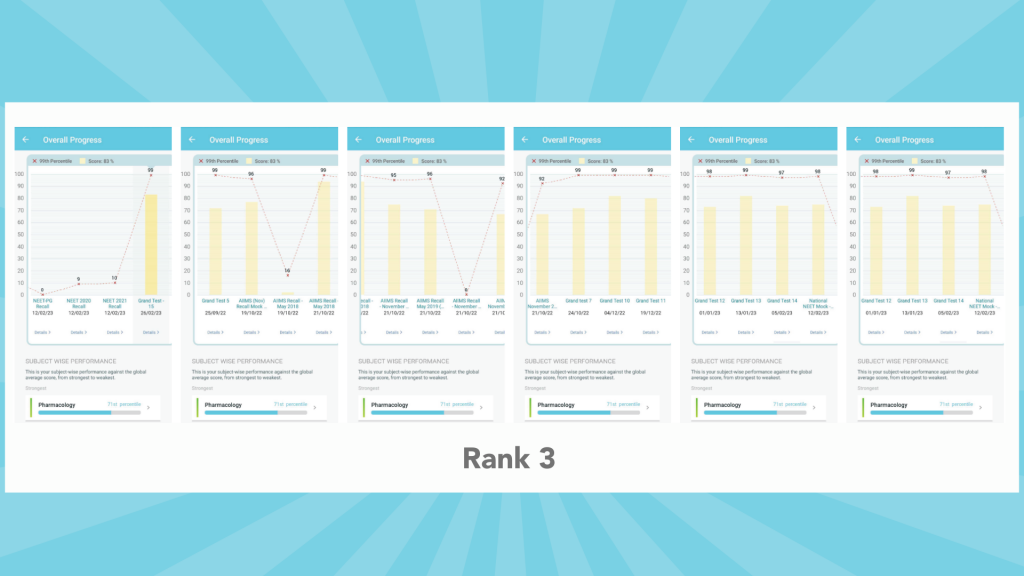 Dr. Jui, Rank 7 used Marrow as a primary source and cleared NEET PG in her first attempt. She is still doing her internship.
I made a notebook separately where I wrote down all my mistakes that I made in Grand Tests, and I went through this notebook one day before the exam, along with brushing up on PYQs.
To know how all the Top 10 prepared for the exam, click here.
We hope these stories inspire you and help you in your preparation.