INI-CET Nov 2023 Exam day Checklist (Including new changes)
Along the lines of recent changes announced by AIIMS, here are the new guidelines and important reminders for individuals participating in the INI-CET November Exam. Kindly adhere to these instructions to ensure a seamless and successful experience at the examination venue.

Date of examination: 05th November, 2023 (Sunday)
New Guidelines:
The format of the test doesn't change, but the question paper will now be split into four sections at random. Each part contains 50 questions and has a 45-minute time limit. In total, there will be 200 questions to be answered within 180 minutes, as stated in the prospectus.

You'll answer questions in a specific sequence. Each part will be available for viewing and answering during its allotted 45-minute window only. Once the time for a certain part expires, it will automatically switch to the next part.

Each component will automatically be submitted after 45 minutes. After a total of 180 minutes (45 minutes for each of the four parts), the entire examination will be automatically submitted.

You will not be allowed to view or answer any questions in other parts than the currently active part. Hence, during the allotted time, try answering every question in the relevant section, even any that you skipped or that are marked for review, etc.
Scheme of Examination: This is a Computer Based Test (CBT) consisting of Multiple-Choice Questions (MCQs)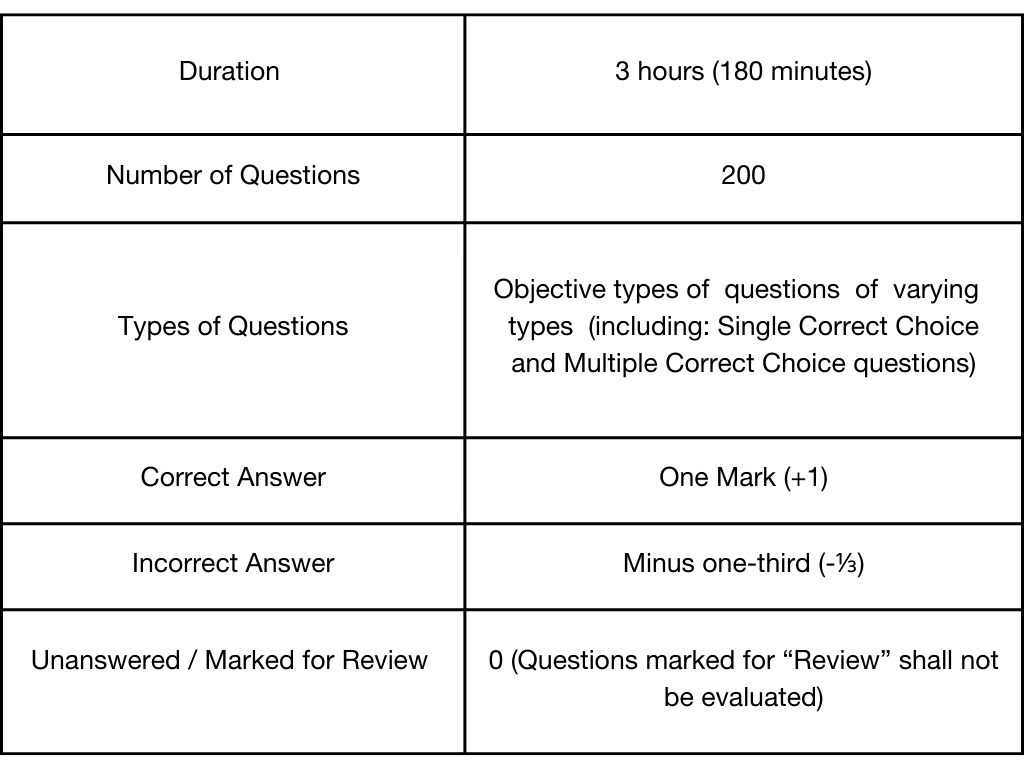 Must carry:
Original and clear print of the admit card with signed declaration.
Original and valid ID proof – The name on the ID must match the name as shown on the admit card.

Don't carry:
All electronic items, including mobile phones, pagers, calculators, etc. 
Ornaments, wristbands, wrist watches, goggles, headgear, scarves, jackets, etc.
Shoes or footwear with thick soles or clothes with large buttons.
Pen, pencil, paper (other than the admit card), books, bags, bottles, etc. 
Before the Exam:
Reaching on time: The reporting time is the time when you should reach the centre. 
No candidate shall be permitted to enter the examination centre after the entry closing time.
Production of admit card with correct details, as mentioned earlier. 
Production of original ID proofs as indicated.
Not carrying any prohibited items. 
Complying with the requirements of the dress code. 
Cooperating with frisking and identification procedures. 
Any other requirement that may be decided by AIIMS and executed by the representatives at the centre. 
During the Exam:
Use the back of the admit card for rough work. No rough sheet will be provided.
It is mandatory to return the admit card at the end of the examination and sign wherever required.
There will be no breaks during the exam.
The use of a keyboard during the exam is strictly prohibited.
Do not leave the examination hall without giving your attendance by returning your admit card after the completion of the examination. Failure to do so may result in the non-evaluation of answers.
Exit time from the examination hall after completion of the examination is subject to additional time required for admit card collection as per the applicable procedure on the day of the exam.
Results will be available on 11th November, 2023 (Saturday)
Wishing you the best of luck!