Ophthalmology Video Replacement in Marrow
The Ophthalmology classes in Marrow will be taught by Dr. Utsav Bansal (Dr. UB). His classes are live in the Marrow app starting Saturday, September 5th.
The classes by Dr. Rajarathna will be available under the Edition 3 section until September 16th 2020. (Steps to switch to Edition 3: Go to settings (under account settings) > Course > Click the button "Edition 3"). Please note: These are the latest videos that were present in EDITION 4.
We are still exploring options, however unfortunately we cannot guarantee an extension. So it will be safe to watch the videos if you wish to do so on or before September 16th 2020.
1-Year notice in future
We are aware that this change has brought confusion and difficulty at least for some set of users and we are sorry for that. While Marrow reserves the right to change the videos anytime, we will be giving advance notice of 1 year if any of the videos are planned to be replaced in the future. There are some exceptions, like the video topics in which there is a significant content update (eg. new TB treatment guidelines by RNTCP). For full details please review Marrow Terms and Conditions.
Why can't Marrow make the existing Ophthalmology classes available for a longer duration?
Regrettably, Dr. Rajarathna is no longer associated with Marrow. She has worked with Marrow for 4 years, we thank her for this. Since she is no longer a Marrow faculty we are not able to update the content. We are not able to record revision videos or MCQ discussions. Combining all of this we have come to this decision.
What will be Dr. UB's approach to teaching Ophthalmology in Marrow?
Dr. UB through his SOCH classes is the faculty who is in touch with the maximum NEET students all across the country. His classes are known for extremely high yield and exceptional (near 100% in many exams) strike rate. He is legendary for simplifying complex topics, adding mnemonics and flowcharts for easy understanding. In alignment with the Marrow classes' focus on clinical and conceptual learning, his classes too have a core focus on clinical and conceptual learning.
Should I rewatch Dr. UB's video if I have already watched the earlier videos?
No. As you know, Dr. Rajarathna is a brilliant teacher and has covered all you need for the exams in her videos. You do not need to re-watch, you can simply review the notes. If you have doubts in any topic, you can only watch those selected topics from Dr. UB's classes.
Will this affect my preparation?
No, this will not affect your preparation, we have made sure of that.
It is recommended to revise by reading your notes, rather than by rewatching the videos.
Watching videos more than once is never recommended by Marrow (Such an option is not available in offline classes also).
How to use Notes for Ophthalmology during this transition?
We know that you have concerns regarding Ophthalmology Notes. Please be assured that we have made sure your chance of success or rank will not be affected due to this change.
Please find our suggestions along with the measures taken; we have created a flowchart for your easier understanding.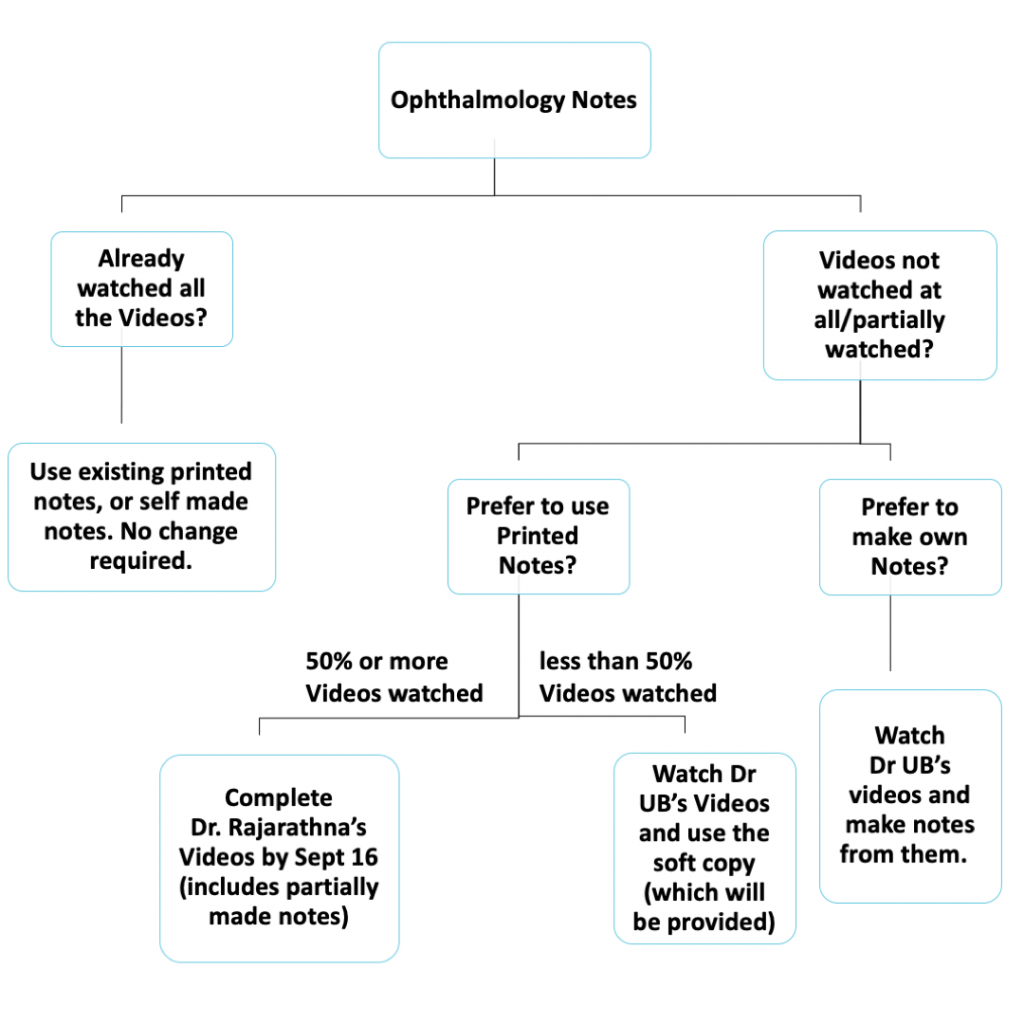 Please Note:
1. Notes on App and Web will be available by 1st week of October
2. Supplement notes will be provided as a PDF for those who have purchased Notes.