Intern Mode E6: Complete Marrow videos in 120 days

Here are 7 things you should know about the new Edition 6 Intern Mode:
1. Intern Mode is a new mode inside Plan C
Intern Mode is not a separate plan. Anyone with plan C can access Intern Mode from the videos section
2. Made for those who have less time to prepare
Intern Mode is made for those who are genuinely short of time like interns, those who are working full-time & those who are starting their preparation late.
3. With Intern Mode, you can complete videos in 120 days
If you watch at 1.5x, you can easily finish the videos in 120 days (4 hours per day). This will leave you with enough time to do QBank & Revision.
Example: Suppose you have 6 months (180 days) till the exam-
| | |
| --- | --- |
| 120 days | Intern mode videos (4hrs/day @ 1.5x) |
| 30 days | Intern mode Qbank |
| 30 days | Revision |
You can add in more hours per day, increase/decrease the watching speed & modify this schedule according to what works for you.
4. Intern Mode has 540 hours of videos, compared to 800+ in regular mode.
When you switch to Intern Mode, you will be shown only the most crucial videos. The rest of the videos will be replaced with QBank modules so that no topic/concept is missed.
5. This is a QBank + Video hybrid mode
Not all topics need video teaching. For some simple topics, QBank is sufficient. In Intern Mode, some low-yield videos are replaced with QBank modules, so that you can cover all the concepts faster.
6. There are no new videos in Intern Mode
This mode just helps you use the existing Marrow content more efficiently if you are short on time.
7. Intern Mode is the 2nd best way to use Marrow.
It is recommended ONLY if you cannot dedicate full time for your preparation. Otherwise, it is strongly recommended to watch all the Marrow videos.
Steps to access Intern Mode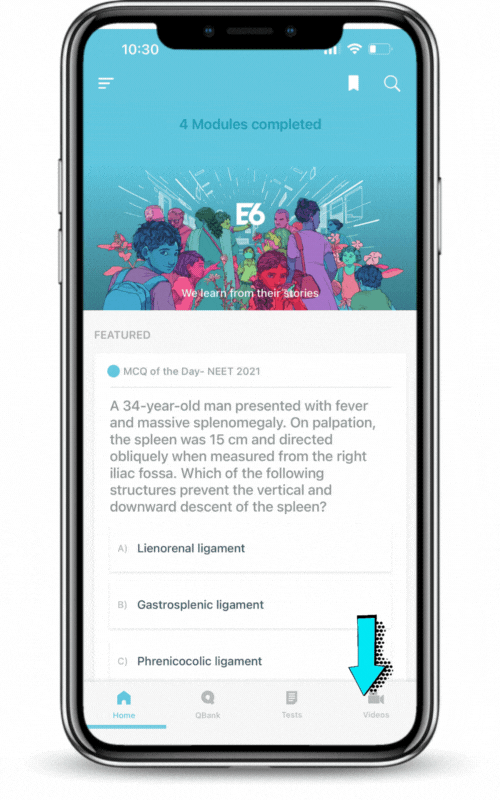 Step 1: Tap on the videos tab in the Marrow app
Step 2: You will find intern mode on the top header
Step 3: Now Tap on the toggle button to activate.
You can switch back to normal mode any time!