Marrow Plan C student Dr Rajat on how he went from Rank 1000 to Rank 10 in AIIMS '18 (May)
The Marrow Team is proud of our Plan C student Dr Rajat Choudary, who got Rank 10 in AIIMS 2018 and Rank 42 in PGIMER. We had a chat with Dr. Rajat where he talked about his preparation strategy. Here's the transcript of the conversation: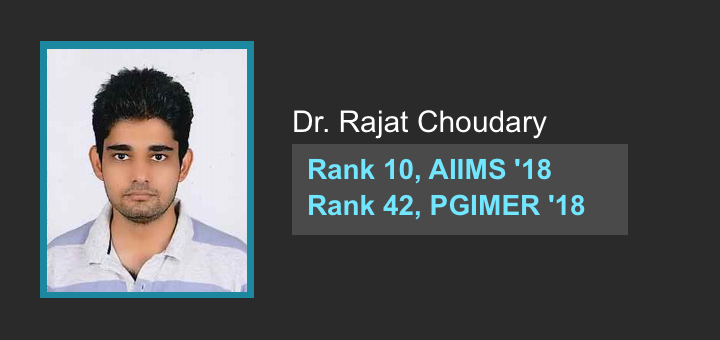 Hello, Congrats on your achievement. Tell us a bit about yourself.
I'm Dr. Rajat Choudary. I'm from Rajasthan. I have scored a rank of 10 in AIIMS 'May 18 & Rank 42 in PGIMER. I had given November AIIMS and my rank then was 1000. My NEET rank was around 11000. I wish to pursue PG in Medicine or Dermatology.

That is quite a feat! Can you take us through the different phases of your preparation?
I've started preparation in bits and pieces from the 6th and 7th semester itself. At that time I had USMLE on my mind. So I was focusing on building concepts in first & second-year subjects. By internship I shifted my plans and started preparing for Indian PG. At the time of internship, I brushed up the basics, but couldn't cover the clinical subjects. I appeared on November AIIMS then, but my rank was around 1000. So I started preparing for May AIIMS.

When did you start using Marrow?
I started using Marrow after November AIIMS results. I was a plan C user. Marrow gave me a sense of direction and helped me make the best use of my time focusing on important areas. The videos helped me quickly and systematically go through high yield topics. Solving MCQs on QBank made the whole preparation process less boring and more effective.
I used Marrow Plan C for 6 months till May AIIMS. Marrow is the most systematic source I've seen. The best thing about Marrow is that you can read whatever you want to read at any time.

What was your typical day like? Did you have a daily timetable?
I divided a day into five parts of two hours. I planned to cover two topics each in those 5 parts of the day; two parts before lunch and three parts post-lunch. I studied one topic across different subjects rather than taking it subject-after-subject. I also had a study partner with whom I discussed questions every day.

Did you make dedicated notes while preparing?
Whenever I watch a Marrow video, I would make note down the important points. Since I did not have time to watch all the videos and make notes for everything, I borrowed my sister's notes for certain subjects. But what you have to understand is we cannot learn from other's notes. We can only revise. So we should know the concepts. I could revise from my sister's notes because I had the concepts clear from the early days of preparation. For physiology I had a notebook for graphs.

Did you skip any subjects?
Yes, I skipped Anaesthesia and radiology. Even for physiology, I referred only my graphs-notebook. For ENT I used only Marrow. For NEET, these subjects are important. But for AIIMS, basic subjects, concepts, and applications were more important.

Is there a difference in the pattern of NEET and AIIMS exams?
AIIMS has mostly concept-based questions while for NEET you need to learn a lot of factual information as well. Clinical scenario based questions are rarely asked in NEET while they are predominant in AIIMS. Having a strong conceptual base will help you in AIIMS, even though you haven't memorized a lot of facts – so you have to really focus on subjects like pathology & physiology. Marrow helped a lot in clearing concepts in my weak areas.

What was your strategy for revision?
I revised the pre and para clinical subjects first. I dedicated 75% of the time for those subjects. I used to keep a note with me and I started to note down those things I didn't know during revision. I read those notes at night so that I become thorough in that subject.

Do you have any advice or suggestions for those who are currently preparing for the AIIMS?
The most important thing is that you should have a self-belief that you can do it. Get familiar with the question patterns by going through the previous year's question papers before starting to prepare and solve question papers.