Marrow Edition 6 – Video Release Schedule
We are delighted to announce that Marrow E6 is now live on your app. This edition of Marrow is special, as we pay tribute to our present & future patients to whom we owe a lot of our learnings.
All E6 videos will be live in the app, over the next 4 days. See the E6 Video publishing schedule here.
Anatomy
Pharmacology
Anaesthesia
Dermatology
Orthopaedics
10 June
Physiology
Psychiatry
Forensic medicine
Radiology
Paediatrics
11 June
ENT
Community Medicine
Surgery
Microbiology
Pathology
12 June
Ophthalmology
Biochemistry
OBG
Medicine
If you can't see Edition 6, please update to the latest version of the app and then go to Menu > Your Course > Edition 6. If you are still experiencing an issue please log out and log in again.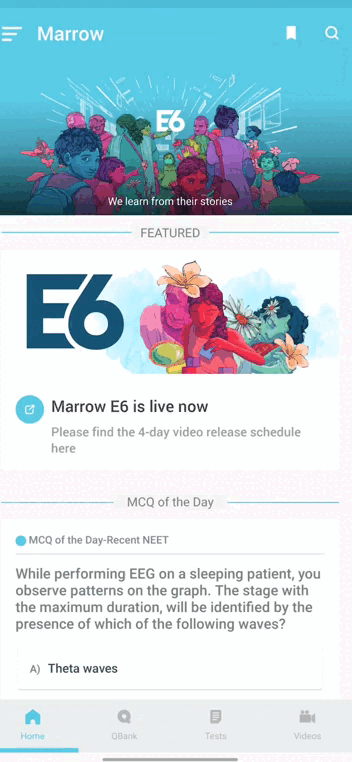 Get the Launch offer – Rs. 10,000 off + 1 Month bonus on Plan C – 12 Months. Use coupon: EDITION6. CLICK HERE to avail.